Rimouski Kennels Perm. Reg'd.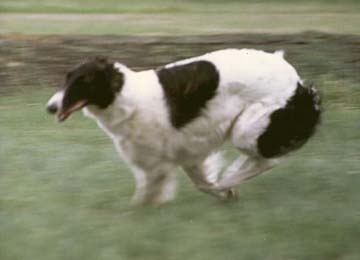 (Can Am CH Rimouski Rave Revue, FCHX)
Proudly Cared For By
Pat & G. Bruce Ingram
After breeding borzoi for more than twenty-five years, the end of a working borzoi line is near at hand. We have strived over the years to be true to what the borzoi was initially bred for. Borzoi were intended to be a hardy breed, built to withstand the rigors of a long hunt in the severe environment of the Russian Steppes, then bring down the prey without damage to either themselves or their prey. This is not to say Rimouski Kennels will disappear without a fight. We are in the process of rebuilding our kennel to our own high standards and we look forward to offering you a high class working borzoi in the future. In the mean time please enjoy our history and the Girls of today.
---
---
For Further Information Contact us at:
Box 20, Site 27, R.R. # 7
Calgary, AB Canada T2P 2G7
(403) 285-9884
Thank you for being our
Visitor
---
Last Revised: October 14, 2014
Design by: Weave Webbed It
---